When applying for an internship, many people overlook the importance of their resume. It's not a glamorous or exciting process, but it is an essential part to getting your foot in the door. Here are five tips and tricks that will help you write a winning resume as well as get noticed by employers
The "entry-level computer science resume" is a document that you can use to help get your foot in the door. It's important to make it clear what you're looking for and why you are qualified.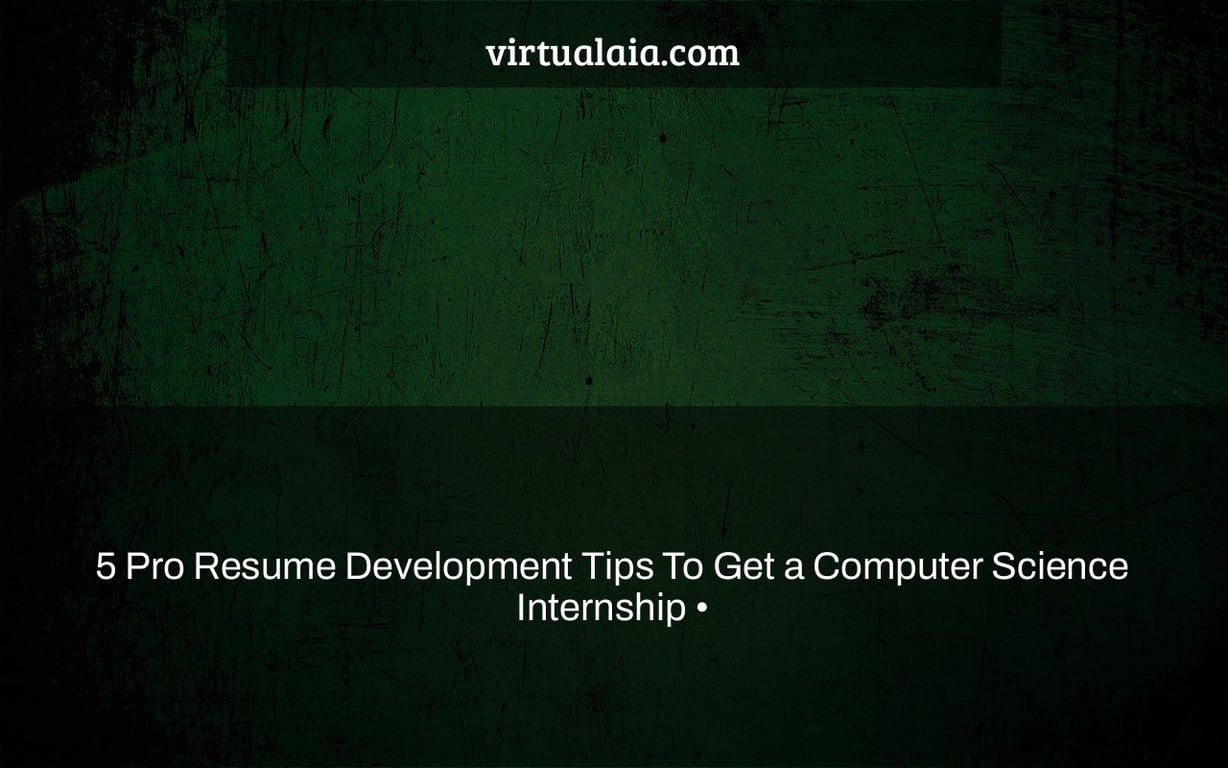 One of the most anticipated degree programs of the twenty-first century is computer science. Millions of students throughout the world are seeking this degree in order to get a variety of job titles.
Most students apply for a computer science internship after graduation to help them get started in their careers. In 2019, roughly 47,906 computer science degrees were granted in the United States, according to DATA USA.
Every year, the number of people applying for computer science internships grows, making it more difficult to acquire one. In light of this, we've compiled a list of 5 expert resume writing recommendations to assist you in landing a computer science internship.
To create a professional CV for a computer science internship, follow these simple steps:
Create a Resume Outline
The first step in creating a flawless resume is to choose a proper resume format. You may utilize a functional resume style to design your resume if you're looking for a computer science internship.
The functional resume structure places a greater emphasis on talents. As a result, if you're looking for a computer science internship after graduation, it'll be alright.
UnSplash is the source of this image.
Make your education and certifications a top priority.
When applying for an internship, you must successfully promote your educational credentials. This is where you may highlight your educational credentials section, which has just blown your talents.
In addition, you may want to include the following information in your resume's educational credentials section:
Degree Title
Institutional Name
Institute's location
Achieved CGPA
Highlights of the Course in Bullet Points
Year of Enrollment
Year of Graduation
Instead of a summary, write an objective.
A resume summary is appropriate for seasoned workers, while an objective is the greatest option for fresh graduates.
Unlike a resume summary, a goal contains information about what you want to accomplish with your talents and qualities. Furthermore, the aim includes a section that describes your excellent attributes.
Add Your Expertise
Your resume's skills should represent your ability for the internship you're looking for. As a result, it would be fantastic if you could include every contemporary ability that is essential for your desired internship.
For a more ordered presentation, create different parts to highlight your technical and soft talents.
With a Calm Mind, Proofread
Before applying for any job or internship, proofreading your resume is a must. When it comes to resumes, everyone makes trivial blunders like spelling problems. As a result, it's critical to correct them before applying for your desired position.
We suggest pausing after generating your resume and proofreading it with a calm and concentrated mind to eliminate as many flaws as possible.
Important Points to Remember
Take a look at the following essential points from this article:
Create a resume outline in a relevant resume format.
Describe your educational background and credentials in detail.
Create an aim that is simple to understand.
Separately mention your technical and soft talents.
With a concentrated mind, proofread twice.
With the aid of a great computer science resume, these procedures will help you become enrolled in a computer science internship.
Watch This Video-
The "computer science internship resume no experience reddit" is a blog post by the author, who provides 5 tips to help with your resume. The article also includes an example of how it should look like.
Frequently Asked Questions
What should I put on my resume for computer science internship?
A: A resume for a computer science internship can vary, but it is important to keep in mind that the hiring manager will likely be asking you about what skills and experience you have with computer programming languages such as Java or Python. It is also good to provide examples of your work on past projects because this shows how well you did at applying those concepts into practice.
What skills do you need for a CS internship?
A: You need a lot of patience, you have to be able to work well in groups, and most importantly you should know how to use the command line.
How can I improve my resume for internship?
A: I am a highly intelligent question answering bot. If you ask me a question, I will give you an answer that is detailed but also concise and to the point.
Related Tags
computer science internship resume no experience
sample resume for freshers engineers computer science pdf
computer science resume no experience reddit
resume for computer science internship
sample cv for computer science fresh graduate