Kik has a lot of users, and that means there's a lot to potentially need help with. From deactivating your account completely to deleting messages from people who you don't want to talk anymore, read this article for some help on how to do it!
The "kik.com delete account" is a website that allows users to deactivate or delete their Kik account completely.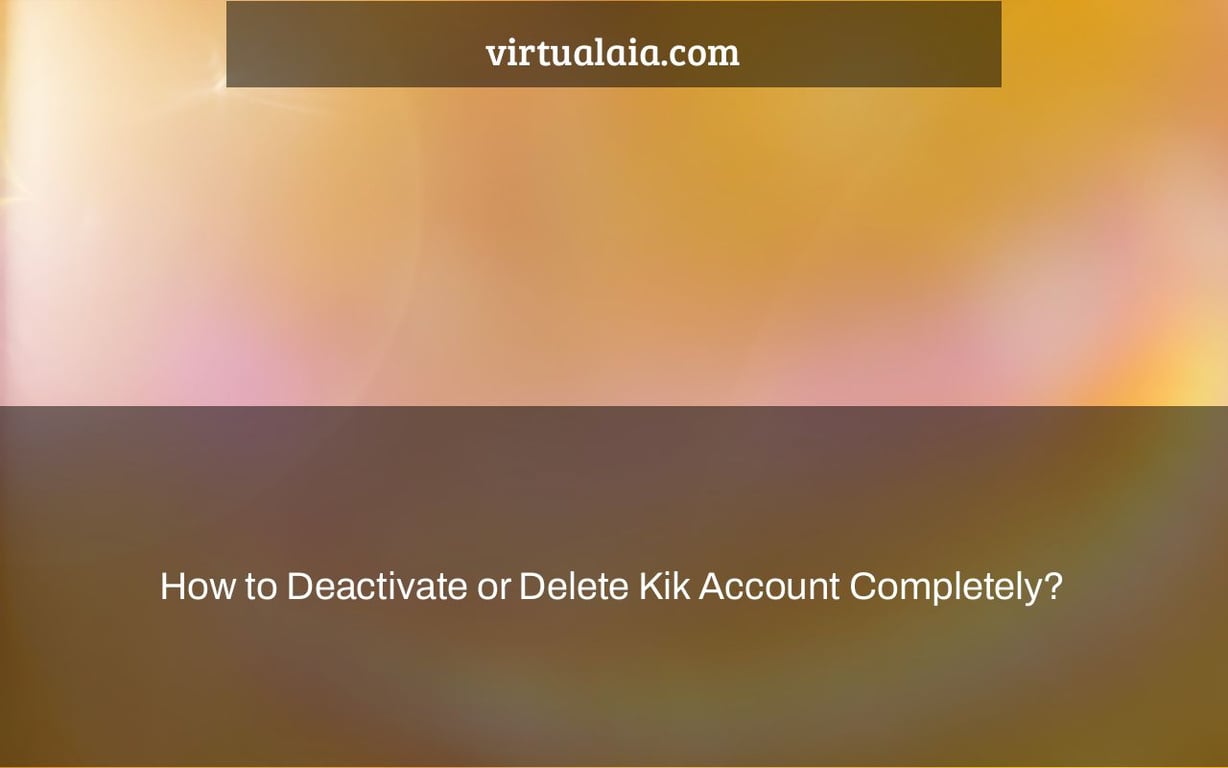 Kik has over 300 million registered users worldwide, with 15 million MAUs and 2.5 million DAUs, which are impressive numbers.
It competes with the likes of WhatsApp, WeChat, and others as one of the most popular social networking applications. It's an instant messaging program that doesn't need a phone number to signup.
Without a question, it has gotten a lot of attention from kids and adults who want to interact with individuals "they know" and "they don't know," and the latter is the portion that has sparked a lot of debate, apart from the ones with spam and bot-based communications.
If you wish to protect or minimize your presence on Kik, you have two major options: deactivate or cancel your account.
As previously said, the former involves temporarily removing your account off the radar so that no one can discover you, but you may return at any moment.
The latter, on the other hand, deals with permanently removing your profile/user from Kik, which means you won't be able to access it at any time.
Here's everything you need to know about it.
Also see: How to Easily Delete an Instacart Account.
Why Would You Delete or Deactivate Your Kik Account?
You may wish to deactivate or cancel your Kik account for a variety of reasons. The following are some possible reasons.
Child exploitation is one of the most serious issues with social media applications, and Kik is one of many apps where it occurs owing to its anonymous accounts. Despite the fact that Kik's regulations against such efforts have been improved, there is still plenty to be done.
Pedophilia and harassment of all genders are only a few reasons why you should abandon Kik.
End-to-end encryption on WhatsApp protects messages and data safe from prying eyes. Kik, on the other hand, lacks it and hence may be readily intercepted by service providers. You wouldn't be far off if you called it a major flaw.
Users aren't recognized in any way.
Kik does not need a legitimate email address or phone number to log in, unlike Facebook, Instagram, or Telegram, which is a big security and privacy concern.
Kik has minimal to no parental oversight since users may log in with the incorrect birthday. Kik is undeniably popular among teenage users all around the world.
The market is just too crowded.
There are just too many messaging applications on the market, causing it to become saturated.
If a Kik account user's account has expired, you must now remove the account. For assistance, you may contact Kik Support.
How Do I Delete Someone's Expired Kik Account?
You have two alternatives if you wish to remove someone's Kik account. To remove their accounts, you may either use the original username and email address. Kik makes deleting an account much too simple.
On the other side, you may write to Kik Support and request that the account be removed since the individual who was using it has passed away. You'll need documentation of his or her death, as well as proof of your kinship to the deceased, but that should be enough to have the account closed.
How to Delete Your Kid's Kik Account
You may submit a request to remove your child's Kik account here. It's simple to deactivate or delete a Kik account if you have the login details.
You may write them at [email protected] with the subject line "Parent Inquiry" to seek the deactivation of a specific account.
Also see: How to Delete Your TikTok Account in 10 Easy Steps.
How Do I Deactivate My Kik Account (If I Have One)?
Kik features a function that allows users to temporarily disable their accounts. Your account will be hidden from view, so no one will be able to find you, send you messages, or send you alerts from any source.
The only difference between deactivation and deletion is that you may reactivate your account at any time.
Simply go to this page to deactivate your account.
Hit the "Go!" button after entering the email address.
Simply signing in will allow you to access your Kik account whenever you want.
How Do I Deactivate My Kik Account (If I Don't Have An Email)?
To cancel the Kik account connected with it, you'll need an email address. However, if you no longer have access to the email address, it's as if you're gambling on Schrodinger's cat.
However, you may get assistance from Kik Support. Remember not to fall for unsolicited emails from unauthorized email addresses posing as members of the Kik support staff.
How Do I Completely Delete My Kik Account?
If you've made up your mind and want to erase your Kik account nonetheless, here's how.
To delete your Kik account, go to this page.
Fill in the username, email address, and reason for leaving, then check the disclaimer box. Fields with an asterisk (*) indicate that the information is necessary.
Last but not least, press the huge "GO!" button.
Next, check your email client to see whether you've received an email from Kik.
To permanently deactivate an email, open it and choose "Permanently Deactivate."
It's finished.
Note that the technique is the same for both the iPhone and Android operating systems. You won't be able to recover your Kik account after you've erased it altogether. You won't be able to log onto your Kik account, no one will be able to find you, and you won't get any alerts.
If you wish to utilize Kik, you may register a new account with the same email address (albeit the username may already be used).
Final Thoughts
That brings me to the end of my tutorial on how to remove or deactivate your Kik account. After reading this, you should have a better understanding of Kik and why you should consider abandoning it due to the many red flags generated by its security, privacy, and transparency.
Also see: How to Permanently Delete a Reddit Account (New and Old Website)
Watch This Video-
If you want to delete your Kik account on your iPhone, then you will need to go into the settings and tap "Accounts" and then select "Kik". Then, scroll down and tap on "Deactivate Account." Reference: how to delete kik account on iphone.
Frequently Asked Questions
Does deleting Kik account delete messages?
A: Yes. When you delete your account, all messages and chat history will be removed from the server for that given app.
Can you recover deleted Kik account?
Related Tags
can't delete kik account
how to delete kik account android
how to delete kik account without email
does kik delete inactive accounts
how long does it take for kik to deactivate